Brits urged to raise a glass to Prince Philip as the nation's pubs – including Windsor's Duke of Edinburgh – reopen… "CHEERS, PHILIP!"
Full story: https://www.thesun.co.uk/news/14616826/brits-urged-toast-prince-philip-as-pubs-reopen/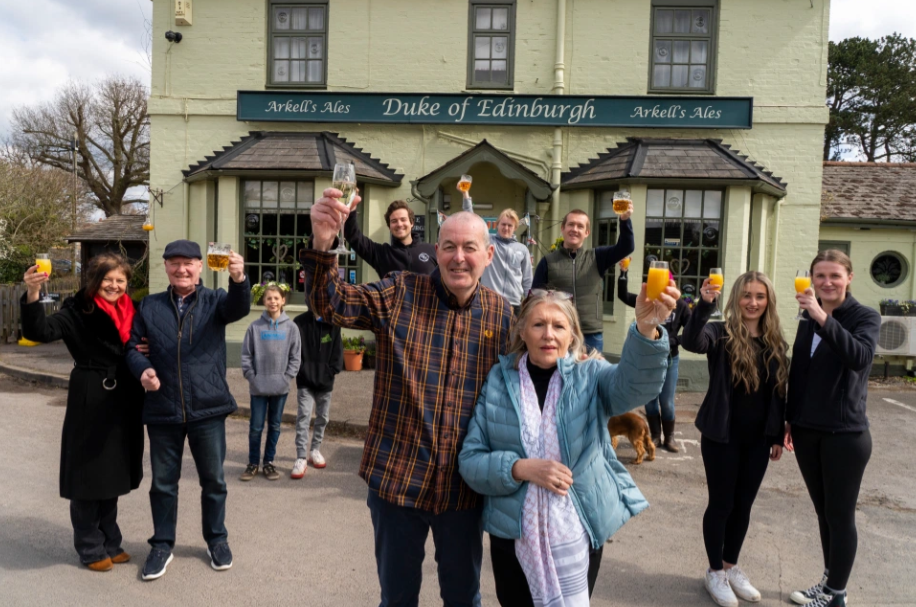 THE landlords of the Duke of Edinburgh pub have raised a toast to Prince Philip and urged the rest of England to do the same today as the country unlocks.
Nick Tilt and Annie Andrews held up their glasses outside their boozer in Windsor — just a few miles from the Castle.
Staff and locals joined them as they paid tribute to the Queen's husband, who died on Friday at the age of 99.
They gathered as the pub, like many others, prepared to reopen today — to provide outdoor service.
Windsor-born Annie, 65, said it was "fantastic" to raise a glass to the Duke – who was fond of beer — and to "let out a big cheers!"
She added: "It's very special to remember him. He had a remarkable life. We're very proud to celebrate it.
"We know he was a real ale fan so we're looking into maybe getting a special beer created with the brewery with his name.
"We have put his photo on the front door as a way of remembering him.
"We're royalists and our customers are, they're largely all from Windsor, so it's very important."
Nick, 60 — who has run the pub for 22 years with Annie — admitted Prince Philip was his favourite royal.
He said: "Raising a toast to him has been brilliant. We can't wait to welcome customers so we can do it with them as well. He was a brilliant man. He was my favourite royal and had been through so much."
A specially-made banner, with the words "RIP HRH, Prince Philip, Duke of Edinburgh" — with a photo of a Union Jack and balloons — will now be placed inside the pub.