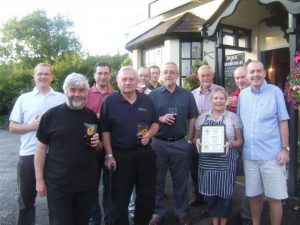 Nick & Annie welcome you to the Duke of Edinburgh at Woodside, a traditional family run business. Here at the Duke of Edinburgh we pride ourselves in offering the highest quality of service in a welcoming and friendly atmosphere. We offer the very best food, with daily Bar and Specials board menus available. Sample our wonderful fayre and accompany your meal with choices of fine wines.
We are located just off the Windsor Road in the hamlet of Woodside, just half a mile from Ascot Racecourse. There is ample parking available, and we have a nice garden too. Check out our location here.
The pub is over 200 years-old and has low beams, giving a cosy atmosphere. The pub was recently completely refurbished, during which time the restaurant was extended and new toilet facilities were installed.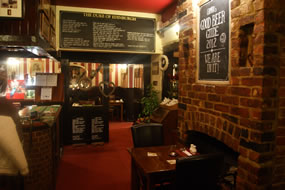 There are two TVs in the lounge area which show the football or other sports events. As well as various beers and guest ales, there are numerous excellent wines & champagnes available.
Just along from the lounge bar area is the restaurant, with table sizes to fit all occasions (parties up to 18 catered for).

The Duke provides free WiFi access (high speed compu-fix system) for its patrons, and offers a smoking shelter with heaters, in addition to the spacious beer garden which also boasts a large avery sporting numerous types of budgerigars.
We do allow dogs in the bar and garden, but do bring a 'doggy bag' in case of an accident.
Pub & Restaurant Directories
The Duke of Edinburgh is featured in The Good Beer Guide 2017, which is our 7th year in the Good Beer Guide.


The Duke is also in Near.co.uk, a pub and food website, which also gives a link to the pub website. BestPubs.co.uk, InformationBritain.co.uk, BeerInTheEvening.co.uk, PubFoodGuide.co.uk, QYPE.co.uk and the recently launched Zayne UK Pub Guide also list the Duke of Edinburgh in their directories.

The Duke is featured on Trip Advisor here, and also has a page on Facebook here.
To view many other reviews & links check out the Links page here.