The Duke Blog
Here you can read articles about events and other thoughts regarding The Duke of Edinburgh.
Chelsea Legends Night – Sunday 8th October 2017 – 7pm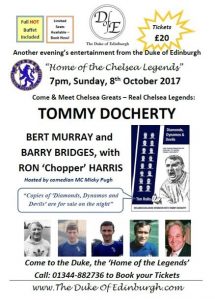 Triple Bogey 3.8% ABV
Summer is here and it's time to dust off the golf clubs.
We've brewed a triple hopped IPA packed with bold American grown hops and traditional British grown barley.
A well balanced IPA, triple bogey is the perfect pint after a hard round.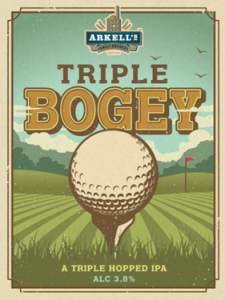 Apprentice Chef wins cooking competition
We would like to congratulate our apprentice chef Jonathen Woodman who won Bracknell & Wokingham College's Cookery Competition, the competition was judged by Janos Veres, Head Chef of Michelin star Hinds Head
Jonathan said: "I couldn't believe it when I won, I thought everyone else's dishes were presented better than mine. But I was so proud of myself as the work to learn how to fillet a fish paid off. Also to turn around and see my mum crying with joy was so emotional for me, it was a great moment."
He also added:
"I enjoyed the challenge of cooking in a competition as I've never done it before. And of course winning was the biggest enjoyment there was of the evening."
Students were allowed to choose any 2-course menu for 1 person (starter/main or main/dessert) and could either serve it hot or cold. They had to consider nutritional balance and list any allergens when designing their dishes. Competitors had an hour and a half to cook and clear away.
Jonathan got inspiration from his head chef Brian,
"He helped me and then I altered the dish to challenge myself even more. I also don't eat fish, but I don't want that to stop me from being able to cook fish to the best standard possible."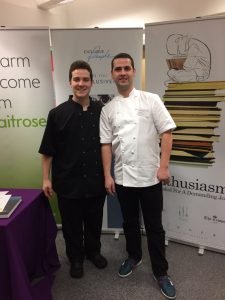 Arkell's Strawberries 'n' Cream 4.5% ABV
Wimbledon starts on the 3rd of July, the suns out (today at least), and we're excited! So to celebrate the most quintessential English event of the summer we thought we would brew a beer to spread the summer joy.
Strawberries 'n' Cream is brewed with some barley, oats and wheat; topped up with hops from around the world, all selected for their summer fruity aromas, and finally a hint of strawberry to round this complex beer off as a refreshing summer pint – cheers!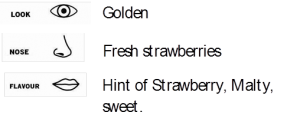 Mother's Day – Sunday 26th March 2017
Mother's Day is fast approaching – just 3 weeks away.
If you are considering taking your beloved mum out for Sunday lunch then give us a call soon – tables are available, but they will all sell out. There is always a nice lunch available every Sunday, but to treat your mum on Mother's Day is special – so we try and make it a bit more special.
Similarly, all you husbands who rely on your wife for all the children activities, school runs and washing all the clothes – YOU should be bringing your wife out on Mother's Day too! Treat the missus and your mum.
Give us a call at the Duke to book your table now.
Captains' Night – 27th March 2017
It's Captains' Night at the Duke on Monday 27th March 2017.
The Home of the legends is proud to announce that Chelsea Legends Colin Pates, Bobby Tambling are at the Duke together with Ron Chopper Harris for an evening of entertainment and stories. Comedian MC Micky Pugh will be livening everyone up and introducing the ex-Chelsea legends.
Tickets are just £20, which includes a hot buffet.
2017 is now on us. Let's hope this one doesn't fly past as quick as 2016!
We hope to see you back in the Duke again soon.
Merry Christmas to all our clientele at the Duke.
We do hope you enjoy your visits and we look forward to seeing you all again soon.
We hope you have a wonderful Christmas and festive season – hopefully with a break from the grind of work. It's a time for joy and friendship – amongst family and friends. We do hope you enjoy your break.
Here's to a happy and healthy 2017.Best wishes from Nick, Annie & Team Duke